WOLF announces new tour with legendary UK band RAVEN
posted in September 4th 2020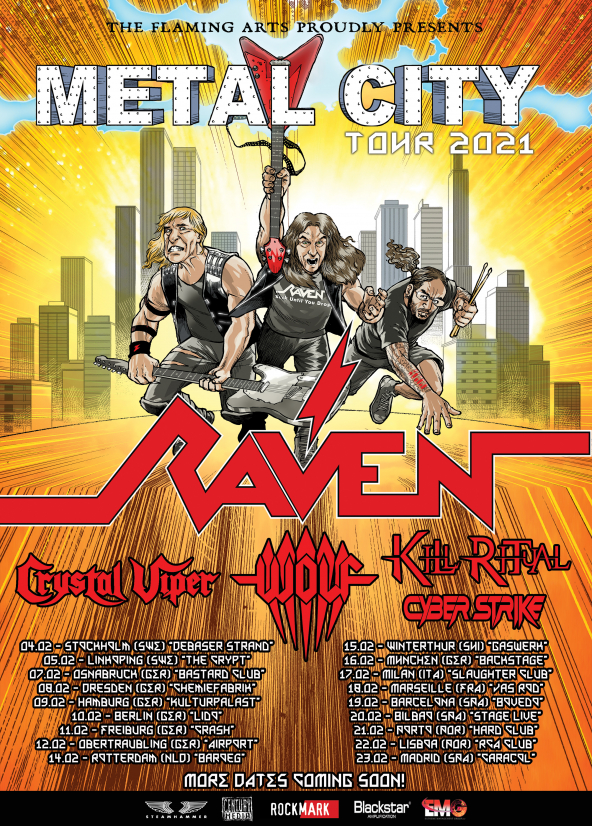 To promote their new album 'Feeding the Machine' WOLF are proud to announce that they are going on tour again in February 2021.
This time as main support for the UK legendary NWOBHM band RAVEN, who is releasing their new album 'Metal City'.


Not only that, the tour will be a package of glorious heavy metal with CRYSTAL VIPER, KILL RITUAL and CYBER STRIKE on the bill as well.
Prepare for an unholy night of metal and oil you neck joints!


Thu 04.02 - Stockholm (SWE) "Debaser Strand"
Fri 05.02 - Linköping (SWE) "The Crypt"
Sun 07.02 - Osnabruck (GER) "Bastard Club"
Mon 08.02 - Dresden (GER) "Chemiefabrik"
Tue 09.02 - Hamburg (GER) "Kulturpalast"
Wed 10.02 - Berlin (GER) "Lido"
Thu 11.02 - Freiburg (GER) "Crash"
Fri 12.02 - Obertraubling (GER) "Airport"
Sun 14.02 - Rotterdam (NLD) "Baroeg"
Mon 15.02 - Winterthur (SUI) "Gaswerk"
Tue 16.02 - Munich (GER) "Backstage"
Wed 17.02 - Milan (ITA) "Slaughter Club"
Thu 18.02 - Marseille (FRA) "Jas Rod"
Fri 19.02 - Barcelona (SPA) "Bovedo"
Sat 20.02 - Bilbao (SPA) "Stage Live"
Sun 21.02 - Porto (POR) "Hard Club"
Mon 22.02 - Lisboa (POR) "RCA Club"
Tue 23.02 - Madrid (SPA) "Caracol"

MORE DATES COMING SOON!

Rescheduled tour dates with Grand Magus!
posted in April 14th 2020
European leg of our tour with Grand Magus is postponed.
posted in March 13th 2020
Wolves of France, Holland and Germany!
It is with great regret that we must announce that the European leg of our tour with Grand Magus is postponed.
The on-going Corvid 19 situation continues to worsen and as such we have to postpone our dates in France, Holland and Germany, for reasons beyond our control.
We will announce the rescheduled dates asap. All tickets will remain valid.
Wolves of the UK.
Our shows tonight in Birmingham, tomorrow in Norwich and Sunday in London will be happening, we look forward to seeing you down the front!
Hail!
Nik, Simon, Pontus and Johan